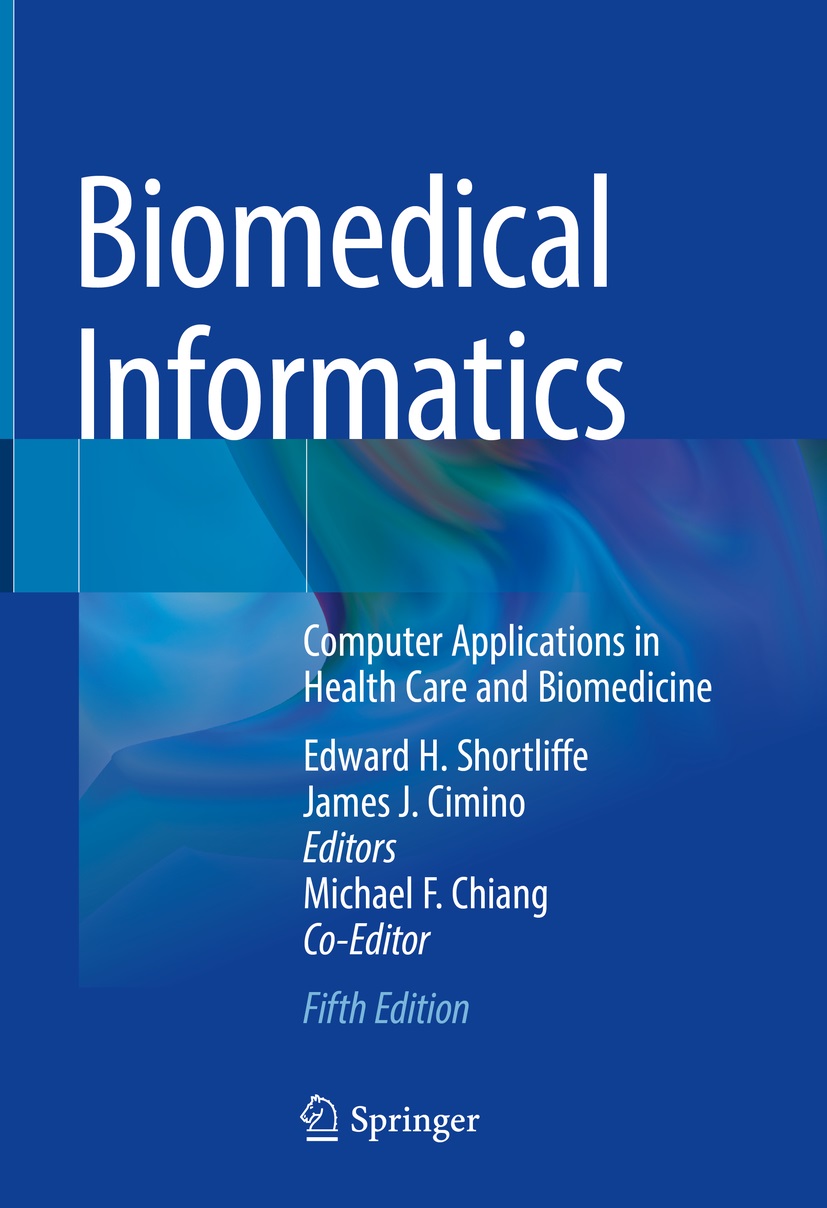 The

Fifth Edition

of

Biomedical Informatics: Computer Applications in Health Care and Biomedicine

was published in 2021 and is available at

SpringerLink

or on book-selling websites. With Edward H. Shortliffe and James J. Cimino again serving as editors, Michael F. Chiang joined as Co-Editor. We anticipate that Michael will serve as lead editor for the sixth edition when it is time for the next update.
4. Cognitive Informatics
Vimla L. Patel and David R. Kaufman
5. Human-computer Interaction, Usability, and Workflow
Vimla L. Patel, David R. Kaufman, and Thomas Kannampallil
7. Standards in Biomedical Informatics
Charles Jaffe,Viet Nguyen, Wayne R. Kubick, Todd Cooper, Russel Leftwich, and W. Edward Hammond
11. Personal Health Informatics
Robert M. Cronin, Holly Jimison, and Kevin Johnson
14. Electronic Health Record Systems
Genevieve Melton, Clement J. McDonald, Paul C. Tang, and George Hripcsak
17. Patient-Care Systems
Suzanne Bakken, Patricia Dykes, Sarah A. Collins Rossetti, and Judy Ozbolt
19. mHealth and Applications
Eun Kyoung Choe, Pedja Klanja, and Wanda Pratt
21. Patient Monitoring Systems
Vitaly Herasevich, Brian W. Pickering, Terry P. Clemmer, and Roger G. Mark
28. Precision Medicine and Informatics
Joshua C. Denny, Jessica D. Tenenbaum, and Matt Might
30. The Future of Informatics in Biomedicine
James J. Cimino, Edward H. Shortliffe, Michael F. Chiang, David Blumenthal, Patricia Flatley Brennan, Mark Frisse, Eric Horvitz, Judy Murphy, Peter Tarczy-Hornoch, Robert M. Wachter